Ya know when your in a store and see something fabulous that inspires you do something in your home?
I have been thinking for a very long time the chandelier over my dining room table was awful, like space age, from Star Trek or something.
See right?
I've seen tutorials on making a drum shade and placing it over your existing fixture, and thought someday I will do that.
I was in Cost Plus and all lighting was 30% off. I saw the perfect shade, it was actually a floor lamp shade so it did taper up a bit, but it was so pretty and ya know 30% off, so what's a girl to do, I bought it with the intention of just placing it over my existing fixture (like all by myself).
I got it home and told my husband my idea, ya he pretty much laughed at me as he usually does at my big idea's, but after I realized it wasn't going to be that easy, and it being Sunday afternoon, and stuck at home with sick kids and the pouring rain, he's like "what else have I got to do" and so it began.
I was just like take off the glass bowl looking things, and then their little silver thingies that hold them off and slip over the shade,
See right?
Oh wait we're definitely going to have to take down the whole fixture from the ceiling, ya this is a little more major,
Well that was just the beginning. In not too long we had no light fixture at all and we weren't even sure the whole shade thing would work.
After we got it down, we had take the whole thing apart. Oh my it's totally broken now what if it doesn't work? My cheap fix is going to turn into new chandelier that I probably won't even like because I'll be too cheap to buy what I really want.
And then...suddenly(ok it wasn't so suddenly but that's how all those awe-inspiring blogs out there always make it seem so I'm just gonna go with it)
Ta Da,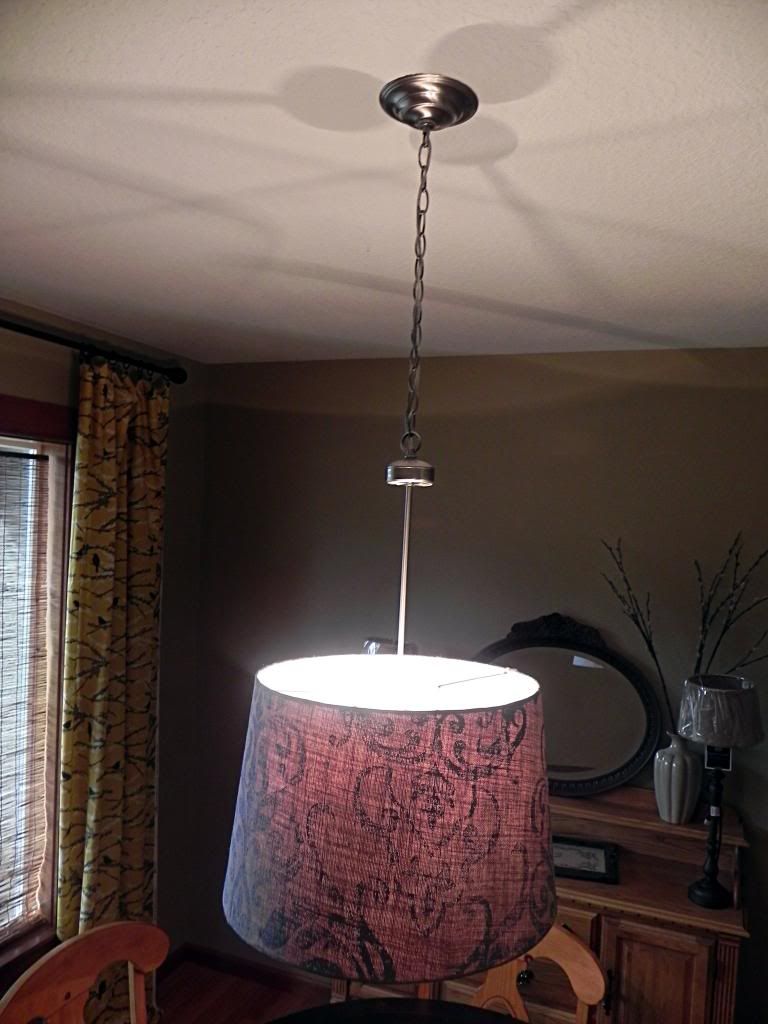 What do you think so much better right? (I'm workin' on taking better pics and photobucket wasn't helping at all), but I could not love it more, and how great is my husband, with his doubting wife along side he pretty much took the whole thing apart and put it back together, and hung it by himself (he wouldn't want me to say but he actually did it one handed) ya he's pretty amazing.
And here is the left over parts, I had to pick up my daughter and he had it all cleaned up before I got home so I had to take a picture of it in the garbage.
doesn't seem like there is something I could do with these, any creative ideas out there?
No more space-age chandelier, Yay!
It's not something for the cottage, but I thought it was a pretty good update (and by the way it only cost $24.50) so I thought I would share.

Thanks so stoppin' by!

Katie