I'll get to the million dollar part in a minute.
First I'll convey my reasons for purchasing this adorable little drop down desk.
For one Cords are taking over our house. We needed a solution for all our charging devices, it was getting out of hand. Family of six equals allot of little devices that need to be charged, phones, ipods, laptops, ereaders, cameras oh my. I also needed a solution for an empty wall, I've been racking my brain to figure out the perfect piece of furniture for.
while I'm not sure if this is the perfect piece for that spot, I know it's a brilliant solution for our charging apparatus dilemma, The brilliantness actually came from
This Post
, I found on Pinterest.
So I headed over to Craigslist, and there are actually a few of this type of desk to choose from. I ended up deciding between this one and one closer to the actual inspiration, that one was more like a dresser with drawers on the bottom, well while more storage is great, and I chose this for it's character.
here it is before...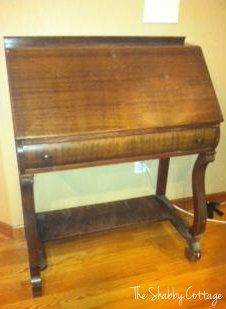 and the inside(sorry for the awful phone pics)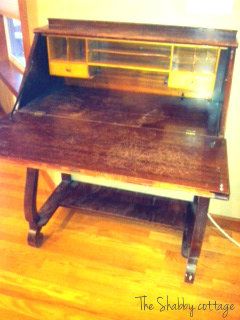 I'm loving white and wood right now, so I left the drawer in it's original state, it was really the only part that was still in pretty good condition.
It works perfect for it's purpose. This was the problem...right there on the kitchen counter(that's not even all of it)
and now...all hidden
We made a hole in the back for the power strip cord, and I think I'll mount it there somehow
I went ahead and finished the wall above with some things I already had and some additions I got from the Cottage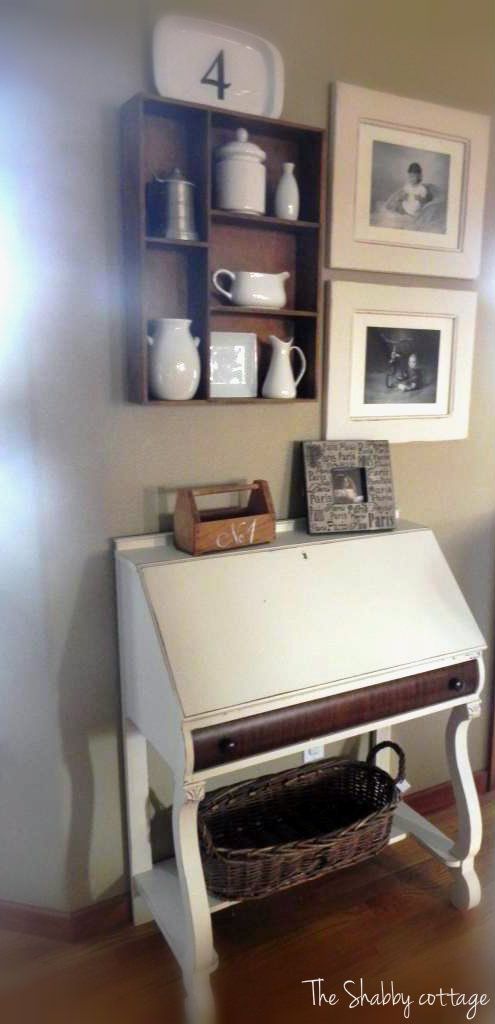 I had the wood frames...here they are before...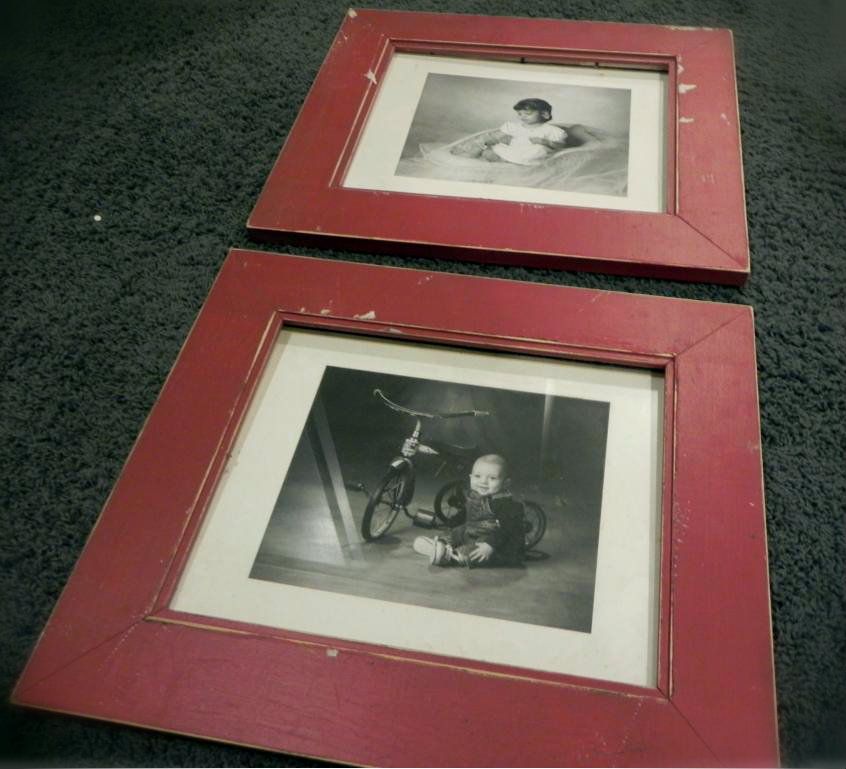 a little white paint and here they are now...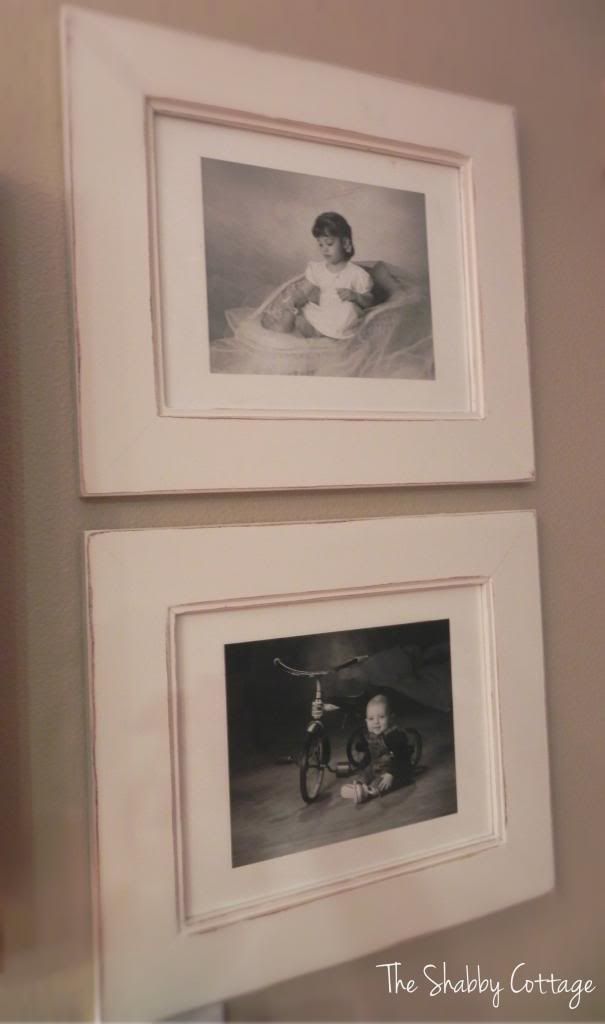 Most of the white dishes, the basket, and the little tool box are from Goodwill, or other thrift stores. I got the Cricket out and added some numbers. And there you have it, actually it really inspires me to keep going and maybe conquer some more walls and empty corners.
Now for the million dollar part. So I can't be the only furniture re-doer that day dreams about finding hidden money, stuck behind a drawer or hidden underneath an old piece of furniture.
So when my husband and I removed the little compartments so it was easier to paint, this worn, brown envelope falls out...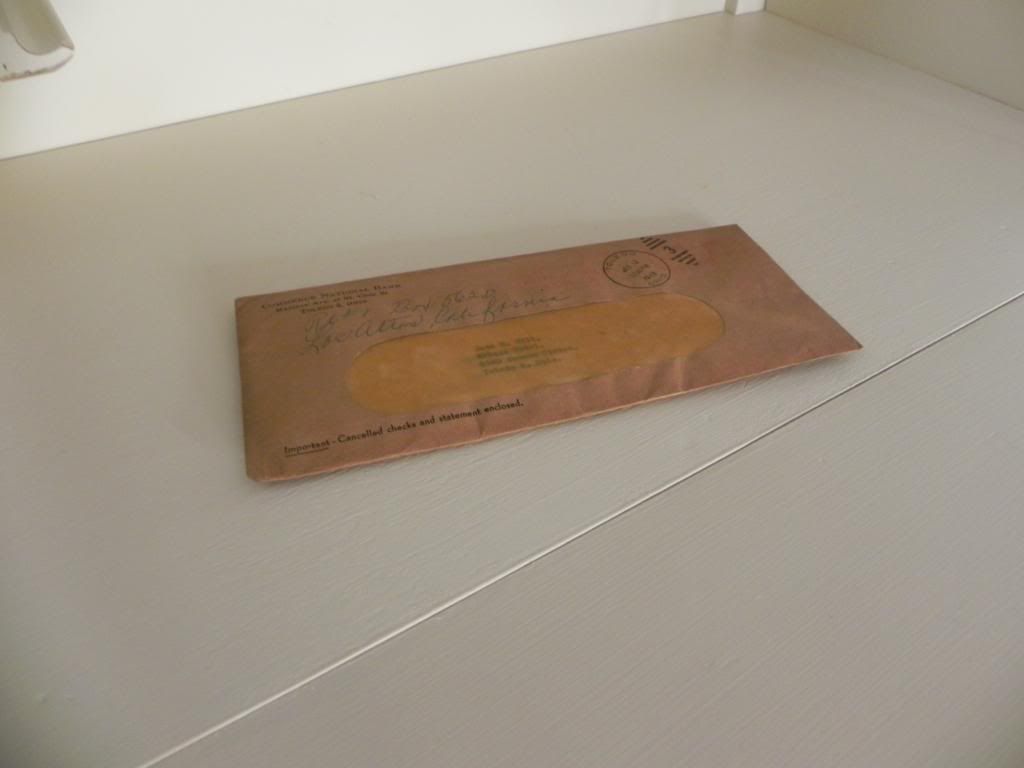 I know, that would be your first thought too right? We finally found the piece with the hidden money. I think I even said "it's the million dollars" ya he laughed at me.
It was actually a bank statement and cancelled checks belonging to a Mrs. Jane Hill from 1949, who was apparently staying at The Plaza Hotel even, well The Plaza Hotel in Ohio anyway, which must have been where the little desk resided.
We may not be able to quit painting furniture and retire millionaires, but it kind of gives my cute little desk a story. I think I'll just keep the envelope hidden in there.
Thanks for stoppin'
Katie