This is that BIG project I was talking about, Yeah, kitchen cabinets. I know It's not like the first kitchen cabinets ever painted by a housewife, but this was pretty major for me.


What a project it was though, it really did take over my life for about two weeks, and I still can't believe we did it. I mean it's not like you can say "oh well if I mess it up I'll just paint over it"
kind of thing.


First I'll introduce you to Sunday and her husband Chris, so I'm not saying my friend and her husband through the whole post.


Sunday talked for months about me painting her kitchen cabinets. I was able to waive it off for a few months, but she just wouldn't take no for an answer, so after a lot of persuasion, and promises of dinner for my family every night(I know right). I pretty much moved in and painted her cabinets.


I'll quit going on and on and just get to the pics, that's what it's really all about anyway, right.
So here's the before...typical honey oak cabinets with pretty much no character, other than that it's a pretty adorable kitchen even before.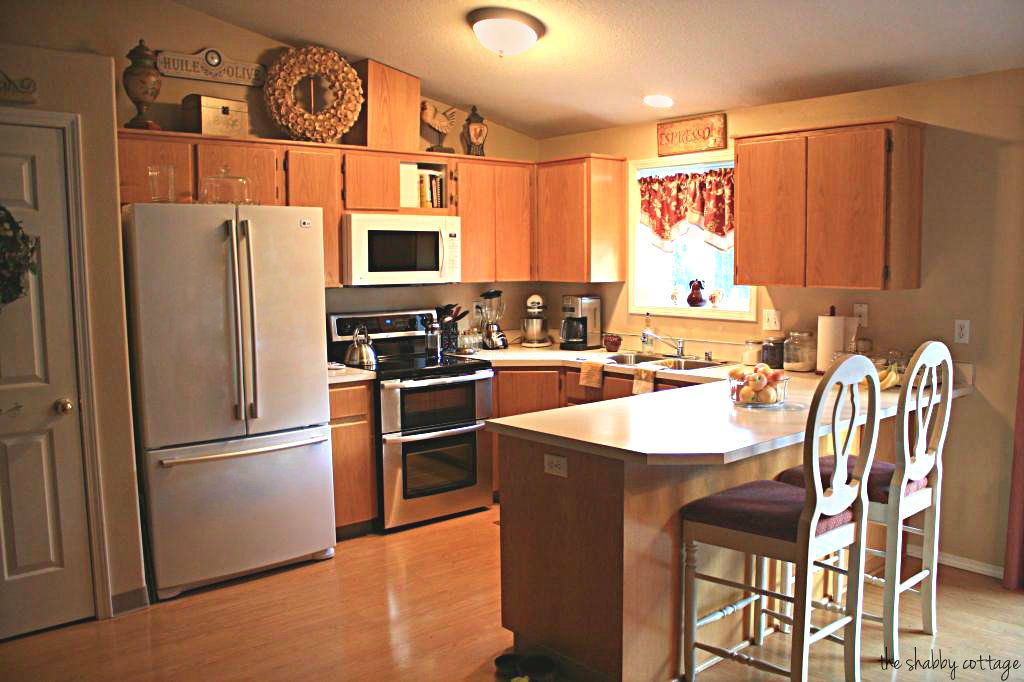 here are the naked cabinets...Chris and Sunday removed all the cabinet doors...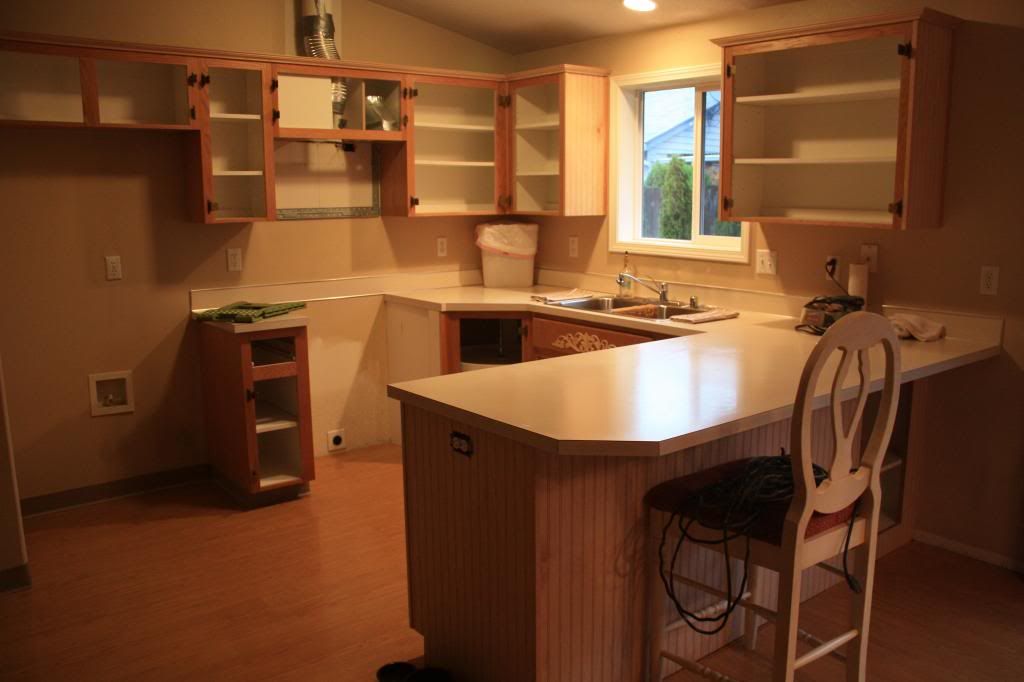 and I painted them in the garage
They also sanded and Chris added trim to the cabinets and drawers to make them look like panelled doors, if you notice in the before pic the original doors have rounded edges, so he had to fill all the edges with wood filler, allot of work I'm sure, but I think it made all the difference.
He also added bead board to the sides of the cabinets and peninsula
An applique on the faux drawer in front of the sink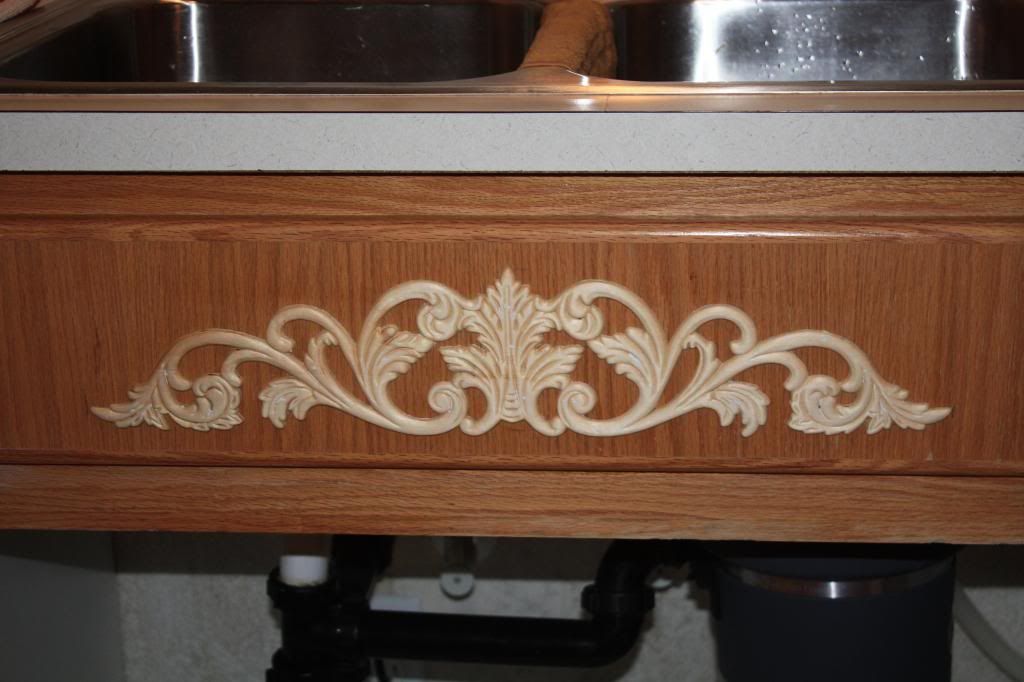 we primed with a good paintable tinted primer
She wanted two toned with the bottom cabinets black and the top cream, (Pinterest inspired of course)...and so drum roll please here is the final result...
The shiny new fridge doesn't hurt.
She added new silver handles also.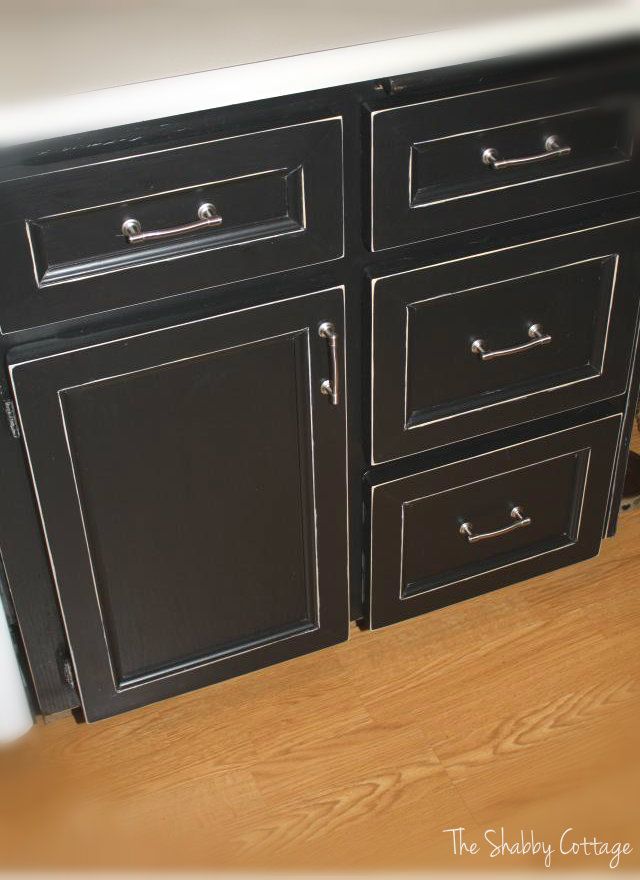 We also painted the inside of her pantry door with chalkboard paint, just keepin it organized...
This kind of project is not for the faint of heart, it was almost two straight weeks for me about six hours a day, but that is only the painting, Chris and Sunday did all the prep, first emptying the cabinets, moving the appliances, removing the doors, sanding, all the extras and trim. I think it was about a month without a kitchen for them.
All in all it was actually pretty fun, but part of me just knows they are sitting at home going "what are we gonna do now we can't just replace them all".
I also have to mention she made me and my family dinner every night I was there, (I wish I had taken pictures of that) I know that was almost worth it on it's own, Thank You Sunday!
All the paint and materials were purchased from Miller Paint in Oregon City, I don't think they are everywhere, but if you have one near you, they have the best quality paint, we get most of our paint at the cottage from them. (and no I'm not being compensated, they just have great products).
Katie